The name of the ART Overnight Bag from Ayacucho says it all: it is the perfect rucksack for an overnight stay. Firstly, the bag is made of 640 waxed Polina, a strong material that is also water repellent, and the zips and clasps are metal.
Secondly, the Overnight Bag is very practical to pack, thanks to the zip that splits the whole bag in two. You can open out the bag completely, giving you a good overview of the contents, and easy access to everything. The main compartment also contains a mesh compartment and an organiser, which you can put all your smaller items in. The front compartment has a fleece lining, so that your telephone and sunglasses will come to no harm if you carry them in there. From the side of the bag, you have access to a padded laptop compartment, so you can always quickly get at your laptop without having to open the whole bag.
The back system is also padded for your comfort, and uses wire mesh for better ventilation. This prevents your back overheating when you're out on a nice strenuous hike with your rucksack. Its 33-litre capacity means it is large enough to hold everything you need for an overnight stay. And it is suitable to use as hand luggage, if your overnight stay requires a plane to get there.
Capacity: 33L
Material: 640 waxed Polina
Water-repellent 
Dimensions: 52 x 32 x 20cm
Weight: 960g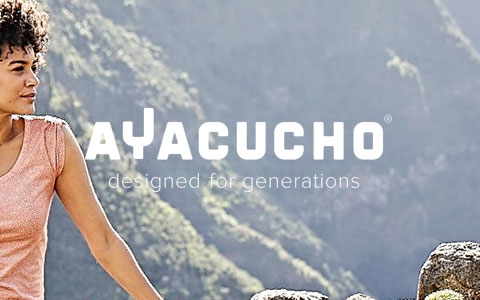 Cotswold Outdoor works together with Solid, a private foundation that sets up projects to combat global poverty. Since 2000, Solid, with the support of the business community, has been investing in sustainable community development and in the intensive training and supervision of vulnerable groups – initially with a focus on the Peruvian Ayacucho region, but later also in Kenya and India. This allows the locals to acquire knowledge and take control of their own lives.
A noble and sustainable project – one that Cotswold Outdoor is proud to be a part of. How? It's simple. Since 2009, every product from the Ayacucho® collection that is sold, generates new funds for their existing projects and for new initiatives.
Ayacucho® clothing and equipment is designed with a focus on responsible, careful sourcing and modern-day technological advancement, giving your adventure the welcome combination of responsibility, comfort and style. This quality outdoor clothing functions to a high standard in challenging environments. Technical outerwear, T-shirts, backpacks or sleeping mats: Ayacucho® helps young and old to venture out into the world with high-quality outfits and material that lasts for years.