The Ayacucho Komati Polo is a classic polo shirt made in an innovative bamboo fabric. The combination of silky bamboo viscose and breathable cotton means that this shirt feels ultra soft and is very quick drying. The polo offers even more benefits thanks to its unique HHL treatment, which ensures that it is insect and odour repellent, dirt repellent, and UV resistant. And, after a long day of adventures, you can just quickly wash it out. The material dries so quickly it will be ready to wear again by the next morning. All this makes the Komati absolutely ideal as part of your all-round travel equipment.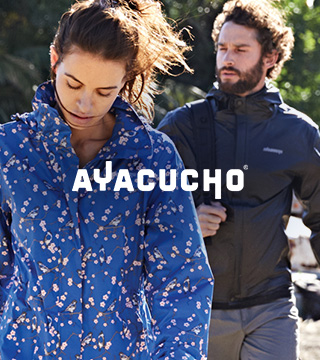 Cotswold Outdoor works together with Solid International, a private foundation that sets up projects to combat global poverty. Since 2000, Solid International, with the support of the business community, has been investing in sustainable community development and in the intensive training and supervision of vulnerable groups – initially with a focus on the Peruvian Ayacucho region, but later also in Kenya and India. This allows the locals to acquire knowledge and take control of their own lives.
A noble and sustainable project – one that Cotswold Outdoor is proud to be a part of. How? It's simple. Since 2009, every product from the Ayacucho® collection that is sold, generates new funds for their existing projects and for new initiatives.
Ayacucho® clothing and equipment is designed with a focus on responsible, careful sourcing and modern-day technological advancement, giving your adventure the welcome combination of responsibility, comfort and style. This quality outdoor clothing functions to a high standard in challenging environments. Technical outerwear, T-shirts, backpacks or sleeping mats: Ayacucho® helps young and old to venture out into the world with high-quality outfits and material that lasts for years.