The Mens Aonach AX Jacket from Berghaus is created for demanding mountain conditions and strenuous climbing. The Aeonach AX is a high performance mid layer that delivers unrivalled comfort through a pioneering combination. Offering 50 times the airflow of a typical downproof fabric, the face fabric is incredibly air permeable. When working with the new, ThinDown Insulation it provides unparalleled air flow from your body to your outer layer, so you can stay cool and comfortable. For warmth, the breathable down is many times warmer than your average fleece jacket but remarkably less in weight. With meticulous stitching that takes learnings from our extensive body mapping research to provide warmth in areas where it is needed and less warmth in areas where its not, it's the perfect solution for stop start mountain conditions. Overall, this is a revolutionary jacket containing high performance technology to provide warmth and comfort without overheating.
ThinDown technology for enchanted breathability
Breathable down Insulation
MTNHAUS body mapping heat distribution
Weight: 505.4g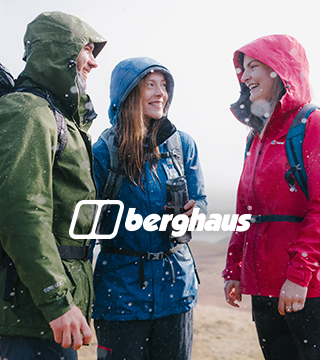 Berghaus has an amazing ability to tap into that feeling of joy and discovery in the outdoors. That feeling we all love. They've used this as the essence to create high performance gear that they're constantly developing and evolving. From the first shop in the North East of England, Berghaus has come a long way.
Using over 50 years of experience to bring you carefully crafted kit that's tested by athletes and built to last. Smart gear with a host of clever ways to make every step in the outdoors more enjoyable and more fun. Berghaus know what lies between simply enjoying the great outdoors and truly loving it. The evidence is in every great bit of kit they produce.