The Mens Fast Hike Stretch Shirt LS from Berghaus is a technical, fast hike shirt will have you working at full capacity as its durable fabric has a mountain of intricate details. High performance stretch fabric is built in to the construction, alongside the tailored XpanseBack box pleat that delivers a 20% increase in freedom of movement for maximum reach, as well as cooling under a rucksack. When the sun's rays are strong, the main fabric keeps you covered with UPF 50+ protection, while cooling vents are cleverly combined with argentium protechnology that has lasting odour resistance for a fresher day. And finally, lightweight durable protection and ripstop comes courtesy of the fabric's grid construction. Overall, a truly robust piece of kit that makes taking to the mountains a breeze.
Fabric:

XpanseBack tailored box pleat
Increased mobility with stretch fabric

Ease of movement
Anti-odour properties
Moisture wicking
Weight: 190g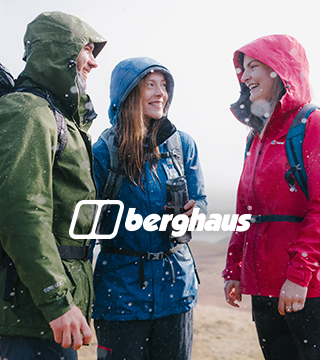 Berghaus has an amazing ability to tap into that feeling of joy and discovery in the outdoors. That feeling we all love. They've used this as the essence to create high performance gear that they're constantly developing and evolving. From the first shop in the North East of England, Berghaus has come a long way.
Using over 50 years of experience to bring you carefully crafted kit that's tested by athletes and built to last. Smart gear with a host of clever ways to make every step in the outdoors more enjoyable and more fun. Berghaus know what lies between simply enjoying the great outdoors and truly loving it. The evidence is in every great bit of kit they produce.