The Mens Super Tech Tee Short Sleeve Crew T-Shirt from Berghaus works in harmony with your body to help keep your climate under control. argentium protechnology reacts to the physiology of your body, becoming extra cooling and breathable when you heat up, and working to be more protective when you start to cool down. To keep you feeling fresh at the end of a tough challenge, it has fantastic wicking properties combined with lasting odour resistance, and for extra measure, mesh panels boost ventilation in key heat zones. Staying safe in the sun is easier thanks to the UPF protection of 30+ that's built into the main fabric . A fantastic choice for cool confidence in the mountains.
Moisture wicking
Temperature control technology
Ease of movement from stretch fabric
UPF protection 30+
Weight: 185g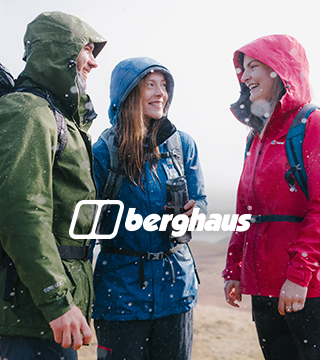 Berghaus has an amazing ability to tap into that feeling of joy and discovery in the outdoors. That feeling we all love. They've used this as the essence to create high performance gear that they're constantly developing and evolving. From the first shop in the North East of England, Berghaus has come a long way.
Using over 50 years of experience to bring you carefully crafted kit that's tested by athletes and built to last. Smart gear with a host of clever ways to make every step in the outdoors more enjoyable and more fun. Berghaus know what lies between simply enjoying the great outdoors and truly loving it. The evidence is in every great bit of kit they produce.