The Women's Ski+ Lite Sock is designed for lightweight comfort on the slopes. It has thoughtfully placed light cushioning to give you comfort in the critical impact areas around the sole, heel, toe and shin without excess weight and bulk. An anatomical toe box and a good dose of Lycra ensure an excellent fit. Compression zones support your instep and Achilles, the toe seam is as flat as possible to prevent the chafing that gives you blisters, and the heel and toe areas are reinforced for strength and durability.
Icebreaker Merino wool fabrics are naturally lightweight, breathable and highly insulating, providing an extraordinarily effective means of regulating your body temperature. In cold conditions, the fibres trap millions of tiny pockets of air to insulate your body from the cold. In hot conditions the fibres transport sweat and water vapour away from your body to keep you cool. The fibres also naturally inhibit the growth of bacteria that cause odours so you can wear the garments for days without the need to wash them.
Fabric: 70% Merino wool, 26% nylon, 4% Lycra
Stretch properties
Breathable
Moisture wicking
Natural odour resistance
Sole, heel, toe & shin cushioning
Anatomical toe box
Seamless toe closure
Reinforced heel & toe
Weight: 82g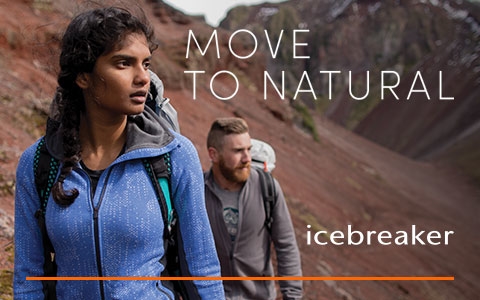 Natural performance apparel company icebreaker believes nature has the answers. For over 23 years, the New Zealand-based brand has worked with what nature provides to create high-performing outdoor clothing in merino and other natural fibres, as an alternative to plastic-based synthetic apparel. Awarded an A+ rating in the 2018 Ethical Fashion Report, icebreaker continues to challenge the status quo while championing natural, transparent and sustainable ways to do business. Choosing icebreaker means choosing nature and helping to preserve our planet for future generations.