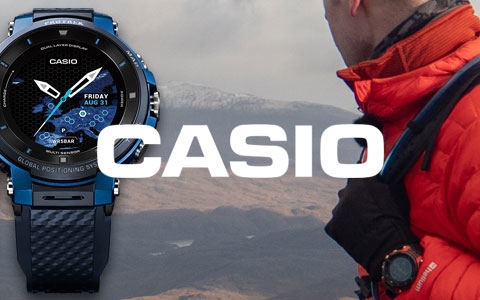 Casio entered the Timepiece market in 1974 with the world's first Auto Calendar Watch. To this day Casio continue to develop technologies around the mission statement of 'Creativity and Contribution' creating the highly unique range of watches we see today, including the original tough watch the G-Shock, and the Pro trek range designed for the outdoors.

G-Shock
The original tough watch, G-SHOCK has been the symbol of durability since 1983. Pushing forward with leading innovation and forward-thinking technological advancement, today G-SHOCK timepieces are equipped with solar power, GPS and Bluetooth technologies and Radio Control to name just a few features.
Pro Trek 
Pursuing development as the ultimate outdoor gear, PRO TREK continues to evolve. Specifically designed for the outdoors, PRO TREK watches have always featured advanced sensor technology and pack numerous features for the ultimate adventurer. With built-in tools to assist individuals in a wide range of outdoor activities including hiking, trekking & mountain climbing, PRO TREK is the essential outdoor companion.