Product information
The tall, highly supportive Men's Hunter GTX Evo Extreme Boot is designed for hunters tracking game over rugged terrain. It has a waterproof and breathable Gore-Tex lining, complemented by a layer of PrimaLoft insulation to keep your feet both warm and dry.
Upper: Nubuck
Lining: Gore-Tex Footwear, PrimaLoft (200g/m²)
Outsole: Vibram Masai Tec
Weight: 2,050g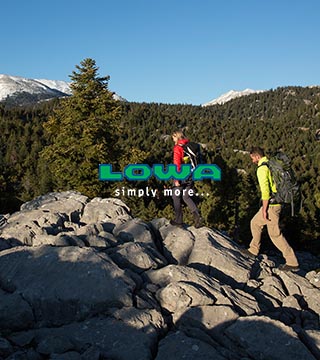 Lowa have been making walking boots for over 90 years. Today, they are the largest outdoor boot maker in Europe, able to draw on over nine decades of expertise to create some of the best walking boots in the world.
All Lowa footwear is built in Europe by a team of highly skilled designers and manufacturers. This means that the quality, as well as the environmental impact of Lowa,  is maintained to an exceptionally high standard.
Lowa always keep quality and longevity in mind. This means that when you choose Lowa, you are investing in something that not only makes the outdoors more enjoyable but will last you longer and keep more materials out of the landfill.