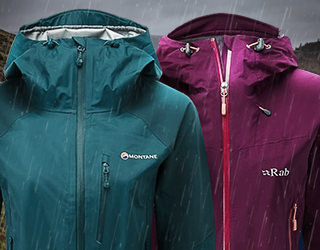 When To Replace Your Waterproof Jacket
A waterproof jacket is an outdoor staple all year round, and it's essential that your jacket stays effective at keeping water out. If you notice that your waterproof isn't performing as well as it used to, it may be time to reproof, repair or replace…
When to wash your waterproof
First, though, it's worth giving your jacket a wash. Over time, environmental pollutants, mud and general dirt coat the inside and outside of your jacket, which can result in poor breathability and waterproof functioning. Try washing your jacket according to the label instructions, and following our waterproof care guide.
When to reproof your waterproof
A 'wetted out' jacket (left) and following reproofing (right).
Most waterproof jackets are treated with a DWR (durable water repellent) finish. This treatment is applied to the exterior of the jacket and works to keep the outer fabric of the jacket from becoming soaked (also known as 'wetting out'). DWR in a good condition will cause water droplets to bead and roll off, rather than soaking into the outer material. Abrasion from rucksack straps, heavy usage and pollutants all degrade DWR over time.
As well as feeling unpleasant against the skin, a poorly functioning DWR coating can lead to condensation on the inside of your jacket, so if your jacket has become clingy, saggy and water sinks into the outer fabric, it's time to reproof and refresh the DWR coating. See our waterproof care guide for advice on how to do this.
When to repair your waterproof
If your waterproof is ripped or has holes in the fabric, repairing it can restore its functioning. If you want to preserve breathability, we recommend using a Gore-Tex patch (rather than duct tape). This is only effective for smaller repairs, so if it's a major tear or if the taping on the seams along the inside of your jacket has failed, then you should have it professionally repaired.
When to replace your waterproof
Waterproof jackets do have their limits, so if you've found that the above fixes haven't restored your jacket, it's probably time to replace it.
Find out about how to choose a waterproof jacket here, or visit us in-store for expert advice on the best waterproof jacket for your needs.